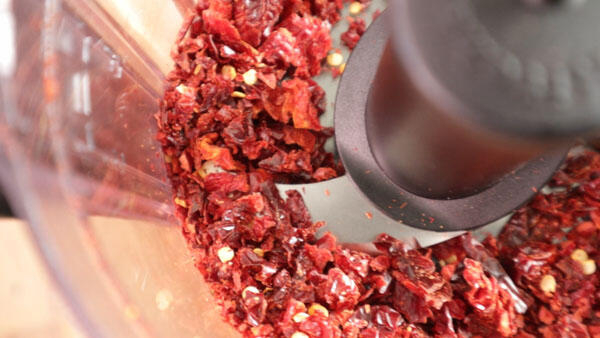 How to make Chilli Flakes at home
Growing Bell Peppers or Chilli plants is great fun, and easy to do. They can produce very large amounts of fruit, which can be processed in a variety of ways. Making Pepper or Chilli Flakes is easy to do, and only takes a few steps, with very few things needed.
When dried/dehydrated and stored properly, Pepper or Chilli Flakes can last for years. If you can buy them already dried, that is great. If they are fresh or you have grown them yourself, then they will need drying or dehydrating first before turning them into flakes. Pepper or Chilli Flakes are a great way to add some heat and flavour to lots of dishes.
My preferred method is to use a dehydrator. They come in all shapes and sizes, and do a very good job of dehydrating.
How to prepare Bell Peppers and Chilli's for the dehydrator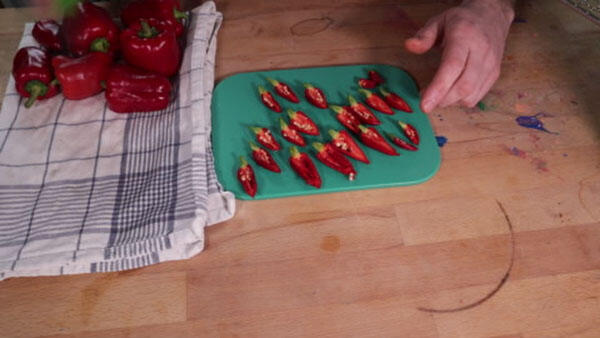 Before you dehydrate them, you will need to properly prepare your choice of Peppers or Chilli pods.
Note: If you are using a hot variety of Chilli, please use precautions when preparing such as gloves. Do not touch your eyes or sensitive parts of your body after preparation.
For my Flakes I have a mix of 'Olly F1' Bell Peppers, and 'Razzmatazz' Chilli pods. This will make a very fragrant earthy mix, with a little heat from the smaller Razzmatazz pods.
See what we used to grow our Bell Peppers and Chilli's below:
Harvy 6 Hydroponics kit from Nelson Garden
Botanium Self watering Hydroponics planter
To prepare for dehydration:
Carefully remove stalks and seed housing. (optionally leave in seeds for extra heat)
Slice peppers/Chilli's into quarters if larger, and half's for smaller pods.
Arrange on Dehydrator shelf with plenty of space between them.
How to save some seeds from your Chilli pods to grow next time
Before you discard all of those wonderful seeds into the compost, consider saving some for the next time you grow. One Pepper pod can hold hundreds of seeds and they are very easy to process and save for later.
This is the method that I like to use:
Prepare a small container with a lid, and line the bottom with a piece of kitchen paper.
Remove your seeds and place them onto the kitchen paper.
Leave at room temperature for around 7 days.
Add the lid, and store somewhere cool, dry and dark for the next time you grow.
What temperature do i need my dehydrator for Peppers and Chillis?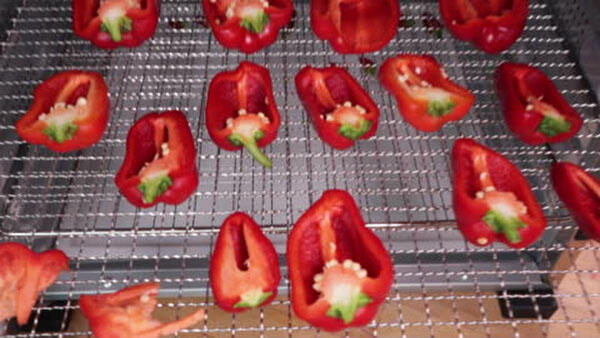 Dehydrators come in many shapes and sizes, but all essentially do the same thing. They circulate air at a set temperature for a set amount of time.
I would recommend the following Temperature and Time for brittle feeling pepper pods after proper preparation above:
How long does it take to dehydrate peppers and chillis to make flakes?
This time will depend on how large and juicy your Pods were before dehydrating. Check on them after 12 hours and see how they feel. They should make a noise when you tap them with your finger nail or hard object.
How to make Flakes from dried/dehydrated Chilli's or Peppers
Ok, now that you have dehydrated your Chilli pods or Peppers, it is time to make flakes.
The best way to do this is with a food processor, but you can also use a hand grinder, or even a mortar and pestle.
I will use a food processor, and like to have a coarse finish to my flakes. If you would like them to be finer, just add some time until you like the look of them.
Add them to your food processor, and turn on.
I usually get my desired flakes after around:
5 secs (In small food processor)
How to store dehydrated pepper flakes
Once you have reached your desired flake consistency, you need to store them properly so they can keep for a long period of time.
I personally like to use old spice jars. In this case I had finished my rosemary and kept the jar for my Bell Pepper & Chilli Flakes. These small jars have a lid, and even a small opening for shaking your new flakes into a dish to heat things up a bit.
Stored in a cool dry place after proper dehydration and storage. Flakes can last for up to a year, and even longer although they will loose some flavour and heat after that.