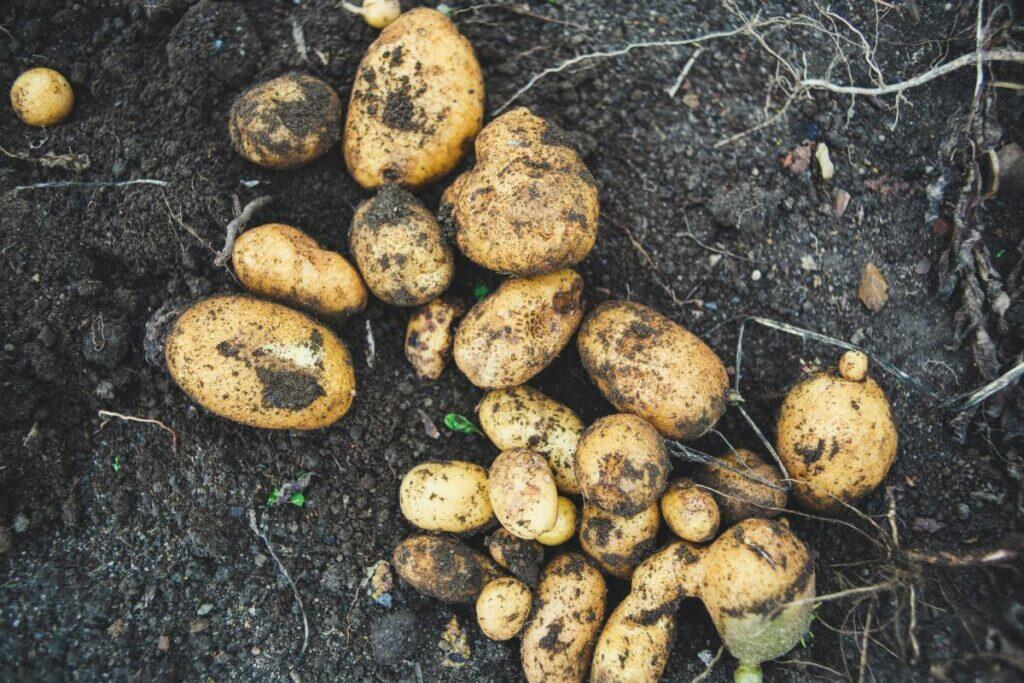 How to Store Potatoes for winter
Summer is rapidly coming to an end, and your Potatoes have most likely run there course, and are ready to harvest and be eaten, or stored for the winter. Below I will give you a few options for Long Term Potato storage.
No matter what variety you have, Potatoes are a great source of energy and food for the winter months. If stored correctly, they can last through the winter even in colder climates such as mine here in Southern Sweden.
It is easy to store Potatoes outside and inside with some careful preparation and planning.
Clamp Storage for Potatoes
Traditional Clamp Storage has been used for hundreds of years, and is an easy way to store your potatoes for the long term Outdoors.
How to make a Potato Clamp
There are some thing to consider before making a Clamp to store your potatoes.
1. Only store the best potatoes.
One bad potato can ruin your entire harvest. When you add your potatoes to the Clamp, be sure to take the time to inspect each one before hand.
2. Avoid potatoes any with holes in or blemishes.
This can be holes caused by the garden fork used to dig them up, or holes cause by slugs or insects from the soil the potatoes grew in.
3. Exclude any potatoes that are slightly green in color, or soft to the touch.
These potatoes must be removed, and discarded or fed to chickens! If they are not removed, the problems will quickly spread unnoticed to all the other potatoes in the clamp.
Where to build your potato Clamp
A raised bed is preferable, but can also be built on solid earth (not grass) although will need a drain/trench around it to allow good drainage.
If building a Clamp in a raised bed proceed as follows.
Start with removing all potatoes from this years crop, and setting them to one side. Then dig a large hole (50-60 cm in diameter) in the center of the raised bed, right to the bottom if possible. Line the hole with a good amount of straw, creating a birds nest for the potatoes to rest in.
Select your best potatoes, being careful to inspect each one for any signs of holes or blemishes. IMPORTANT. Any bad potatoes will spread to all others in the clamp and ruin your entire harvest.
Take your best potatoes and gentle add them to the straw nest being careful as to not bruise them on the way in. Aim for a pile of Spuds as high as the hole is deep. Adjust depending on harvest size.
When a large pile of your best potatoes has been made, add more straw on top of the potatoes, making sure to get right down the sides of the pile.
Next pull the soil you removed to dig the hole up the sides starting at the bottom, and up to the top. Leave a small gap at the top of the Clamp with no soil on. Around 10-15 cm big to add more straw to it to allow some air to get down to the potatoes underneath. This Straw chimney will allow for better drainage, and also air to circulate.
I would suggest doing a couple of Potato clamps in your raised beds, so they remain a manageable size, and give your more chances of long lasting potatoes.
Sand storage
Sand Storage is not a new technique either, and is a great way to store potatoes for the long term. Sand will help to keep excess moisture away from your potatoes reducing the potential for rot. This great drainage property of sand also keeps humidity under control.
What type of sand can I use for Storing Potatoes?
Clean sand or Play sand for children's sand boxes that has been washed and heat treated in most cases to remove any bacteria is the best option.
Play sand is also very fine sand and perfect for storing potatoes, and other root vegetables. This is easily bought from you local hardware shop, and is the best for this potato storage method.
Store somewhere cool and dark that does not go below freezing, and it is possible to keep potatoes this way for up to 6 months.
I will have some of my potato harvest stored in sand, in my unheated garage this winter.
How to prepare potatoes for Sand Storage?
Once out of the ground allow your potatoes to sit in a single layer if possible somewhere dark and cool for a couple of days, this will allow the skins to harden slightly and will greatly extend there storage time.
As with all storage methods, you must remove any potatoes with holes in, or signs of blemishes, soft spots or green color.
You can use almost any container for Sand Storage, but I would recommend a wooden box, or even a cardboard box for this method.
Simply remove your potatoes from the ground, and remove any larger bits of earth. Do not clean potatoes as this can help promote rot. Add some sand to the bottom of your container, and after inspection, add your potatoes leaving a little space between each one. Finally cover with sand and store.
If covered and prepared properly this method will keep your potatoes for up to 6 months.
You can easily apply this same method to most other root vegetables.
Looking to preserve your Bell Peppers? Check out our article below, and follow along with the recipe.
How to Preserve Roasted Hydroponic Bell Peppers in Oil