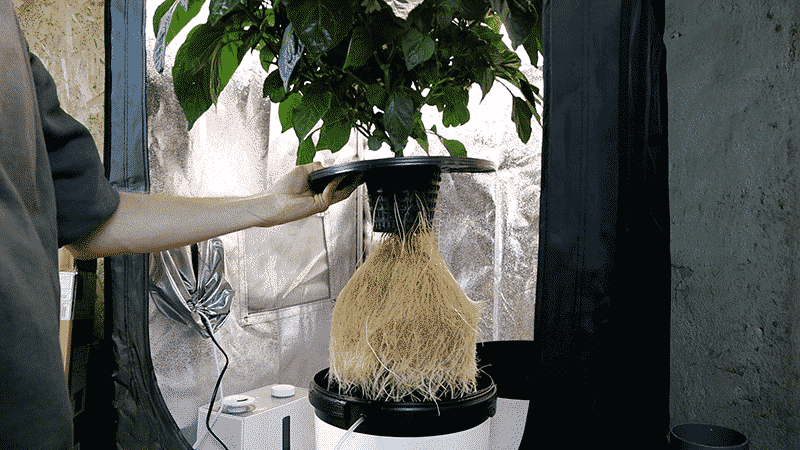 Growrilla Hydroponics DWC Kit – Detailed overview & Videos
The DWC Kit from Growrilla Hydroponics, is a great way to get into hydroponics. Easy to use, and has everything that you need included. Just add water, your favorite nutrients, and your plant.
DWC (Deep Water Culture) is a tried and tested Hydroponics growing method. The water is constantly aerated with an air pump and air stone, making it the ideal place for the roots of your plants. Oxygenating the water like this, gives the plant access to as much or as little oxygen as it needs. Lets jump into the specifications of the DWC kit from Growrilla Hydroponics.
What's included with the DWC Hydroponics Kit?
No need to source air lines, pumps, rubber grommets/gaskets, hole cutting bits, hose pipes etc. The DWC from Growrilla Hydroponics even includes a Net pot, and Clay pebbles.
List of what's included:
Pot measures: 33 cm ( height) x 30 cm ( diameter)
Pot size: 19 liters
Air pump: Hailea ACO 2210 (78 L/h)
Level and drain pipe
Net pot 12 cm
Air stone + 1 mt air hose
Rockwool cube
Clay pebbles
We have recently completed a seed to harvest grow in a DWC kit from Growrilla Hydroponics, and it was a pleasure to work with and handle. See the playlist below, starting from when we transferred our seedling into the Net pot, and started the process. Be sure to hit Subscribe if you want to see more!
Special features to mention, are the water level hose/drainage line on the side of the DWC. This simple design gives you your water level at a glance, but also swivels easily to allow you to drain your nutrient solution out, either during water changes, schedule changes, or the end of your grow. A much appreciated design feature.
The strong, very small air pump from Hailea, is a workhorse that can be placed almost anywhere. Around the size of a computer mouse, it comes with a Type-F plug, and is rated for 78 L/h. The supplied airstone is a long shape allowing good distribution of air bubbles, across the entire surface and contents of the 19 litre grow container.
If you would like to know more about the DWC Grow container from Growrilla Hydroponics, check out the link below for all the details, specifications, gallery and more.
DWC Hydroponics Kit from Growrilla Hydroponics
Where can I put my DWC?
Using the DWC hydroponics method is good because of its small footprint. Larger RDWC systems will consist of a minimum of 3 grow containers, one of them acting as a reservoir. They take up much more room, and are much more difficult to work with, move around, and maintain. See our RDWC playlist below for size comparison.
Depending on what you're growing you will have to consider temperature. Most plants enjoy warmer environments, and some even require high humidity. Peppers for example not only need around 20-25 degrees centigrade, but also an RH (relative humidity) of around 55-65%. In our experience and because of these requirements, we always grow in a Grow tent. This allows us to control the environment completely, and keep our temperature, and humidity at good levels, allowing our plant to thrive. We always use Nedis Smart sensors to monitor our Grow Tents, giving us an easy at a glance look at every important reading. Nedis products overview and details.
Our seed to harvest with a Bell Pepper plant in the DWC (playlist above), was done in an 80 cm x 80 cm x 120 cm Grow Tent, and whilst big enough, we would have liked a bit more working room around the edges, and even the option to add another DWC container along side it to stagger growth for example. Our next tent will be a 90 cm x 90 cm x 180 cm (Coming soon in shop – Sign up to Newsletter below), and will give us extra room to grow food all year round, and experiment with Hydroponics.
Newsletter Sign up
Do I need a Grow tent?
The simple answer is not necessarily. However, if you plan on having your DWC indoors, and the temperature is stable, then it is of course possible to have it in any room. Having said that, Grow Tents have several advantages other than giving a steady temperature and humidity. For example:
All Grow Tents have a supplied floor that acts as a reflective service for light, but also like a basin/bath for water. You must keep in mind that when dealing with water it is good to have something underneath, that can help with any spills along the way.
Another advantage of a Grow Tent is that it is completely sealed from light, so when the door is shut it is contained. Having a full spectrum LED Grow Light directly in your kitchen for example, could be a little harsh on the eyes for long periods of time.
More light on the plant, equalling more growth and higher yields. All Grow Tents have a reflective silvery service on the inside, which acts as a huge reflector when light is added above your plant. Your plant will subsequently be bombarded with light from all over, giving it a much better chance of proper growth.
The last reason is smell. Grow Tents have a range of access points to the inside, normally with a sock like construction and draw string to shut them tight. This gives you easy access to run power cords in and out, but also the ability to ventilate your grow tent away, and out of the room it is in.
What can I grow in a DWC Hydroponics kit?
If you have full control over your environment like I outlined above with the use of a Grow Tent, then you can grow almost any edible or otherwise plant in a DWC Hydroponics kit. Without directly mentioning it, Hydroponics is usually reserved for growing certain types of consumable plants, or weeds very successfully.
It is very rapidly becoming the go to method for growing all things edible however, especially fruits, such as Peppers and Tomatoes. Normally these fruits have a very specific window of growing time in the summer, and a late summer harvest. Here at Grow Zone Scandinavia we will have fresh tomatoes for around Christmas time, before collecting our chilli's shortly after sometime in January (fingers crossed). Combined with the correct preserving/processing techniques, this growing method can give you access to fresh produce all year round. Herbs are other edibles that will thrive in an oxygen rich DWC growing container, allowing you and your family to have a herb shaped boost through the darker months of the year for example.
To conclude, the DWC from Growilla Hydroponics, is a cost effective, easy to use and manage choice for those getting into hydroponics, and for advanced users. We have combined a few products in our shop to help you get started even faster. Our Bundle with a TriPart Start pack from Terra Aquatica for example is a great choice for all plants. See the link below for the details.