Hydroponics Kits and Systems for the home (Easy to setup)
Hydroponics is a great technique that is easy for beginners, and produces fast growing, High yielding plants. In recent years many companies have taken simple hydroponics kits and systems and made them easy to use, stylish, and ready for home use.
Hydroponics is very easy to do at home, and with the help of a complete kit you can enjoy the benefits of Edible greens, Tomatoes, Peppers, and more right from your kitchen window. Most hydroponics Kits come with everything that you need to get started right away. Below I will outline some of my favourites.
Hydroponics at Home
Growing some/all of your own food has many benefits. It is a money saving technique, but also has many health benefits. Just being in the presence of plants has shown to reduce stress, and increase air quality among other things. Grow something that you love to eat, and you will be rewarded greatly.
There is a negative stigma towards growing using hydroponics, as it is associated with the marjuarna industry. It is true that Hydroponics systems such as larger RDWC, and even small homemade DWC systems grow Marajuana plants very efficiently under the right conditions.
Hydroponics however is not just for the drug industry, and can and does produce lots of edible fruits, vegetables, and herbs for our consumption.
Growing Edible plants with Hydroponics
Using hydroponics to grow edible plants saves a huge amount of water, has a fast turn around from seed to harvest, and takes up no more room (and in some cases much less) than traditional growing techniques. Some examples of edible plants to grow in Home Hydroponics systems include:
Basil
Lettuce
Pak Choi
Tatsoi
Coriander
Cherry Tomatoes
Pepper Plants
In recent times Manufacturers have seen the need for more stylish Hydroponics Systems that can fit into any home, kitchen, workspace or Home office. This has been a great way to bring hydroponics to the mainstream, and highlight just how good it is at producing fast growing, edible plants in an urban/home environment.
What are some of the benefits of Growing using Hydroponics?
Many people I have spoken to struggle to keep basil alive after buying a mature plant from the supermarket. When properly trimmed basil growing in a hydroponics system will just keep producing leaves, and be quite healthy in a sunny window. Hydroponics gives plants easy access to all the nutrients they need to grow, and is therefore a great option if you are not so great at keeping herbs alive, or forget to water regularly.
Another great benefit is the fast growth of your plant. With easy access to all the nutrients the plant needs to grow, and with no time spent trying to find those nutrients (such as in soil growing), your plant can get straight to producing leaves, and growing fast.
Zero mess. Place your Hydroponics system where it is going to stay, add water and nutrients, plant your seeds using the provided equipment, and walk away. It really is that simple with most modern Hydroponic systems. Others have a power supply to pump water, or maybe air. Others are completely passive. Perfect for any beginner.
Hydroponics systems and Kits for the kitchen or home
There are a great selection of countertop hydroponics systems, normally using the Kratky technique of suspending the plants in a growing media above a nutrient solution, and allowing the roots to be partially submerged. This is a great way to start your hydroponics journey, and you will see results fast.
These countertop systems are normally geared towards growing greens, such as herbs or salad. Plants that either keep producing leaves like basil (if tops are pinched off), or salad that can be trimmed and eaten, and then if cared for will also keep producing tasty leaves.
There are several Hydroponics growing kits on the market. After lots of research we have discovered a few favourites that produce great results every time with very little effort.
Harvy Hydroponics Kit from Nelson Garden

This kit uses a method of Hydroponics called the Kratky Method. In Kratky hydroponics, seeds are added to an absorbent growing medium, in this case Pods made primarily of Coco core. They are then placed above a reservoir of Nutrient solution.
The Pods absorb the nutrients and as the seed germinates, and starts to produce roots, the roots then head down and are eventually submerged in the nutrient solution. By this point the level of the water in the reservoir will be lower, allowing the plant not only to drink all it needs, but also to get all the air it needs from the top of the container.
The Harvy Hydroponics kit comes in 2 sizes. The Harvy 6 can Grow up to 6 plants, and the Harvy 3 can grow up to 3.
The Harvy Hydroponics System requires no power, and simply needs refilling once in a while up to the fill line inside the container. We have had great results with these Hydroponics systems, and they are very easy to install, set up and maintain.
The Harvy 6 and 3 Kit comes complete with everything you need to get started, including:
6 x Pre seeded Pods (3 x Basil, 3 x Lettuce)
6 x Growing baskets (3 x Growing Baskets for Harvy 3)
1 x Nelson Garden Hydroponics Nutrients 250ml (NPK 7-1.3-5)
All you need to provide is water to grow with Harvy! See all the details using the link below:
Harvy Hydroponics Kit (opens in a new tab)
Botanium Self Watering Hydroponics Planter
After a successful kickstarter back in 2017, Botanium has enjoyed worldwide success. Using a cross between Oxy Ring, and Top feeding Hydroponics.
Botanium is completely automatic.
Coming in 2 sections, the bottom section holds a small water pump, and the Nutrient solution. This is then pumped up through the top section (when connected to the power supply), and out through the very top of Botanium for a feeding time of 10 seconds.
The strategically placed water spouts at the top mean the seed, and further down the line the plant can get the maximum amount of Nutrient solution each and every time, allowing for a nearly maintenance free Hydroponics growing solution. The water passes through the roots of the plant allowing it to get what it needs to grow, and the rest of the water returns to the bottom section. This allows the Botanium to last weeks before needing a refill and and care.
Botanium waters every 3 hours from when it is plugged in. Just like the other systems it includes everything you need to get growing in the box (minus the seeds and water).
Botanium includes:
Botanium Hydroponics Planter
Growing Media – Clay pebbles
Pipette bottle with Liquid nutrients – NPK 2.3 – 0.9 – 3.4
Quick Start and User guide
USB wall plug and Cable
Botanium have a range of seeds that are tryed and tested in the Botanium. See the Link below for details and varieties:
Botanium Seeds Range (opens in a new tab)
We are currently growing Cherry Tomatoes, and a Pepper plant in 2 Botaniums, and the results are astonishing. It looks great in the window, and grows Food Automatically. What more could you want?
Botanium Self watering Hydroponics planter (opens in a new tab)
We also have guides and videos about Botanium on our YouTube Channel. See the playlist below:
DWC Growrilla Hydroponics Growing Kit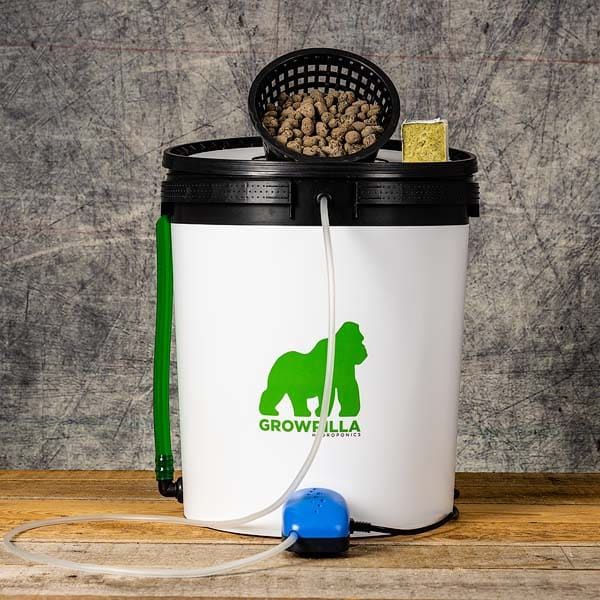 This last one is a little more serious, but is still a small enough form factor to have indoors.
DWC (Deep Water Culture) Hydroponics is one of the best ways in my opinion to get great results from your plant.
Growrilla Hydroponics are based in Italy, and have a number of Hydroponics systems, ranging from single growing containers such as the DWC all the way up to 18 Container RDWC systems for commercial use, and large growing operations.
DWC Hydroponics uses an Air Pump and Air Stone to oxygenate the Nutrient solution, giving your plants roots a great advantage, and lots of oxygen. It also means that you can have more water in the growing container, meaning less regular maintenance is required.
DWC systems are often paired with an LED growing light, and placed in a grow tent. They would do equally as well though in a warm environment with plenty of sunlight.
The DWC Growing Kit from Growrilla Hydroponics comes with all you need to get going. The kit includes:
Pot measures: 33 cm ( height) x 30 cm ( diameter)
Pot size: 19 liters
Air pump: Hailea ACO 2210 (78 L/h)
level and drain pipe
Net pot 12 cm
Air stone+ 1 mt air hose
rockwool cube
Clay pebbles
We have been growing a Pepper Plant using this DWC kit in a Grow Tent from seed, and have a full plylist over on our YouTube Channel. See the embeded video below:
Hydroponics Systems and Kits for the home have arrived. They are stylish, easy to use, and grow food. These 3 easy to use Hydroponics systems are an affordable, and great way to start growing edible plants at home. With little to no maintenance required anyone can grow using Hydroponics.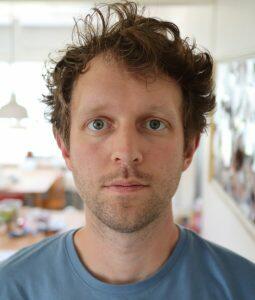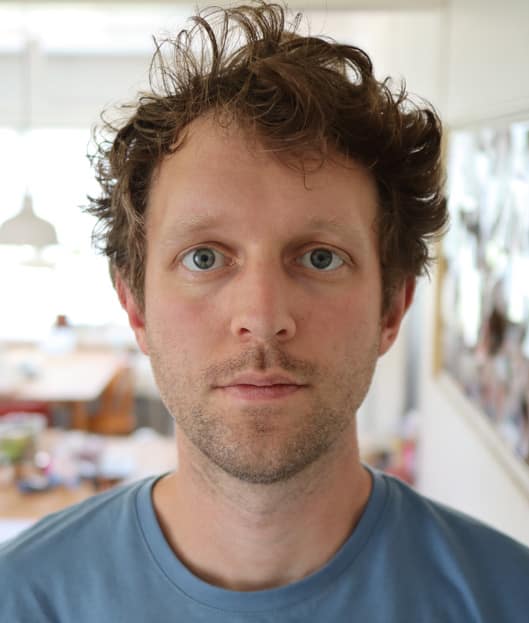 Ian Hunter - Father of three, based in Southern Sweden. Author and Co owner of Grow Zone and growing Food all winter. See my full About Page here.
Strongest Skills and Recent Pursuits:
Google Trusted Street View Photographer
360 Content
Virtual Tours
Cinematographer
Music Production
Web Design
Design
SEO - Search Engine Optimization
Links to Homepage and Social Media