TriPart Grow by TA/Terra Aquatica – 1 or 5 liter
Advanced Nutrient System 3-1-6 (formerly Flora Series by GHE)
This product was previously called FloraGro when produced by GHE.
1 liter or 5 litre TriPart Grow (Original Flora Series). One part of the original 3-part advanced nutrient system for hydroponics, coco, and soil.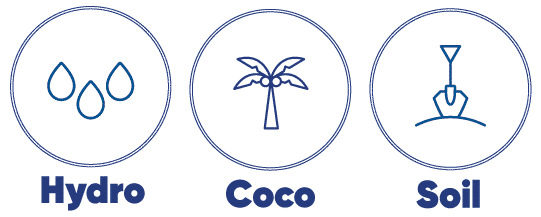 DK & FI: from 150 SEK. Free shipping from 1,249 SEK
BE, NL, DE, PL from 175 SEK. Free shipping from 1,349 SEK
Rest of Europe (excl. Iceland): from 225 SEK. Free shipping from 1,449 SEK
More details on Shipping page
Other products You might be interested in
TriPart® Grow
Stimulates structural and vegetative growth, builds strong roots and provides the majority of the nitrogen, potassium and secondary minerals in TriPart®. Use higher levels in growth, and lower levels in flowering.
This is ONE part of the TA Advanced Nutrient System called TriPart, the other two are TriPart Micro and TriPart Bloom.